HVAC Repairs Done Right
Precise Heating & AC Repair Service
One of the things that amazes our customers is how quickly our technicians can spot a problem and repair it. We not only repair it, but we repair it well. In fact, at J-Mart Services, we repair it so well that we often don't hear from that customer again until they need an inspection or a regular maintenance visit!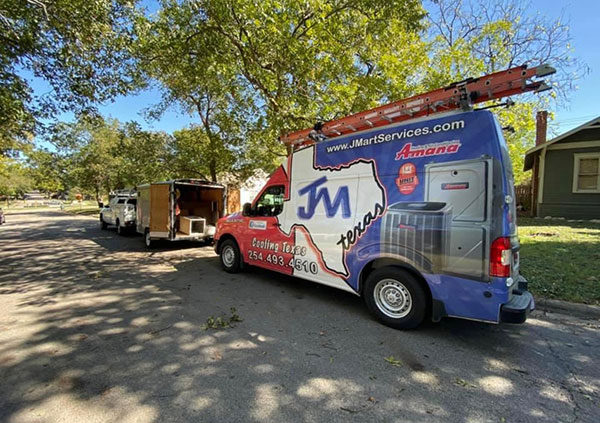 Isn't that what a good HVAC company does? At J-Mart Services, we believe it's how our customers deserve to be treated. Our excellent heating and AC repair service has earned our company a five-star rating from local customers. We invite you to request our caring, trustworthy repair services the next time you need them.
Never Ignore a Repair Need
If you know something is wrong with your HVAC system but ignore signs of trouble, hoping they will improve on their own, you could be inviting a dangerous situation. The possibility of a carbon monoxide leak is one of the dangers that must never be forgotten. In addition, a simple heater or AC repair can prevent a costly failure of the whole system.
These are some of the signs you should not ignore:
Blower is constantly running
Air is too cold or too hot
Energy bills have increased
Natural gas odor
Disrupted air flow
Insufficient airflow
Bad odors
Noisy operation
Water leaks
High humidity in the building
The best way to avoid expensive repairs is to schedule bi-annual HVAC maintenance service with J-Mart Services. That way, we can spot any potential problems that may arise and keep your system running smoothly and efficiently. Regular maintenance checks are a great way to ensure your heating and cooling units last as long as they should, which can be up to 20 years. 
If repair simply can't be avoided, don't worry. One of our friendly technicians will respond promptly and get your system back to working order quickly. We offer emergency repair service as well.
Contact Us Today
For prompt, friendly and skilled repairs, contact J-Mart Services at 254-493-4510 or submit our convenient online contact form today. We look forward to serving you!